Today's Tarot, plus astro-forecast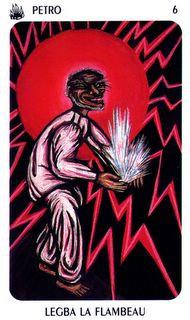 Tough decision, whether to post the one from the Voodoo or the one from the Whimsical (Dorothy returning home via the ruby-red slippers, also a very fav of mine, from that deck!), but in the end I had to go with Papa Legba, as the 'opener of the ways' and my personal 'Master of the Head' (Hierophant), for Tarot Cafe tomorrow! ;-))

Fa la la la la, la la la la.... Seems the season to get silly, as we all come together in a universal launch of this beautiful time with an abundant New Moon in Scorpio. Your WISHES COME TRUE, and especially on this awesome first day of December marking a spiritually fresh, and ever so accomodating 'huge' time ahead with one of the most blessed and best New Year's ever! This month we hug, love and bring each other together in a most verbose and spiritual way with a cosmically inclined December beginning today. Kick it off with a new moon today, and our communication with others begins to settle down. Delays are no longer feared in airports or on the ground, as Mercury goes direct, finally again on the 3rd. YAY!!!
Then on the 9th, we push forward our action oriented Mars, placing our thoughts and ideas into an action as we plan to initiate and ignite our plans on or about the 16th with an entirely new annual Plutonian cycle to wrap up the mystery of all that's occured in 2005.
We open the doors to a brand new year with a Venus retrograde on the 24th, to help us clear our weary heads and put our love life in perspective. We can 'for the moment' become still and reflect on where we find ourselves and what we do and with whom and why...?
Whatever we do, we must do it well, and with abundance and great gusto now, creating a busy buzzing, sizzling, sassy sound to all our communication with everyone around. Certainly, it seems a time now to offer gratitude for all that we have become, all that we have, and all that we've experienced, endured, and enjoyed. And especially for all that we have yet to experience, each and every day. Take time to say, "I love you" to those in your life from whom you've learned, whether by virtue of an essay, a story or witnessed miracle. May you all enjoy a great happy holiday.