10 of Wands - or the curse of environmental sensitivities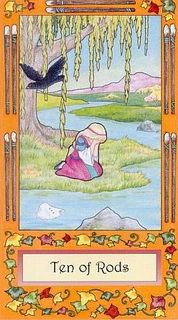 Although we had quite a pleasant chat last night (although he spoke Norwegian, so I did not understand him too well over a bad connection), I have decided NOT to ring B-E tonight, on the strength of this card...

And it does not end there. I already felt averse to Sacred Heart mission
art group changing its location back to the meeting place as of yesterday, i.e. I just "did not like the energy" of the place (possibly the reason I find myself into feng shui - environmental sensitivity to energies of place?).

The only "pro" I could think of to justify the move seemed that there we/they find more space, and people did get stressed by cramped conditions, and lack of physical space, including myself, on occasion.

The "cons" I totted up amounted to -
(1) lack of natural light, opaque and dingy windows, necessitating a dingy, yellowish, electric gloom even at the height of a very bright, warm summer's day - and one simply cannot paint by artificial light, as I found the last time I tried to paint at night, by artificial light, in Norway, i.e. what do artists' studios feature, regardless of size, but an abundance of windows admitting natural light, and even the odd skylight?
(2) bars on the windows, making one feel "imprisoned" and claustrophobic, despite the extra space;
(3) lousy acoustics, such that when Billy started to sing, you could not even tell he sang at first, and then you had to move closer to discover what he sang (also causing very poor and stressful conditions for trivia, which I also had to abandon, for that reason, because it just did not seem "fun" any more);
(4) horrible narrow storage area, with doors opening every which way, making it difficult for people going in or out to collect supplies and materials;
(5) finding ourselves locked out, in the beginning, and kicked out, at the end, to facilitate Sacred Heart's own agendas - no opportunity for traditional socializing and traditional "karaoke" on Tuesday? Although Craig did not attend today - someone must have tipped him off? So I never got to check this one out, having to leave early today, for the 6th big reason...
(6) the disinfectant with which they washed the floors today smelt so strong, the fumes went to my head straight away, giving me a headache, smarting eyes and difficulty breathing... They treated it as a joke when I had to go about with a tissue over my nose and mouth, and finally had to "exile" myself outside till I could go. Even if I could go in after an hour, that would not leave any time to actually do some art. The nuns would kick up a big stink if anyone dared smoke in there, but cannot understand it when the boot finds itself on the other foot, of a smoker to boot (i.e. who said smokers have no sense of smell, and no environmental sensitivities)? Kate would not even listen when I tried to explain this, saying she found herself "too busy"; Sister Rose did show more sympathy, and I will miss her when no longer able to attend as either a participant or volunteer. I hope they will miss me too.
I cannot do art at home (no room). I have heard the Salvos also run some art program on a Monday or Tuesday; must check it out, due to the stresses of this dis-/relocation...