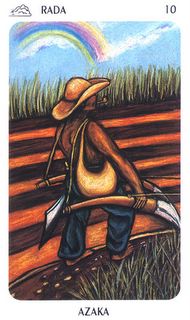 Don't you love it? Another "stick that in your pipe and smoke it", along with the 10 of Wands... OK, mystery solved - I had a 50c piece set apart, with B-E's name on it, so to speak, and the lousy phone card would not connect us, for some strange reason ;-P
>Subject: Le Manteau de rectitude et les Couleurs des Sephiroth par Jacobus Swart.
> Enfin, Malkhut, qui est blanche originellement était vue par Cordovéro comme comprenant toutes les couleurs, c'est-à-dire, toutes les Lumières dévivées des Sephiroth et qui se concentrent en Malkuth qui est tel un arc-en-ciel.
> Tout le monde les lira en accord avec ses propres perceptions. En vérité, chacun de nous perçoit le monde au travers de prismes « moi-colorés ».
(from Kabbalah-concepts list)