Poems to chant at the feet of La Santa Muerta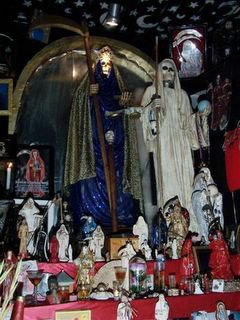 The cult of La Santa Muerta seems exactly the kind of religion we need in the chaotic world in which we live (see post and comments below): picture courtesy of Flavio, El Intuitivo, again... I now have my own Mexican La Senora Muerta enthroned on my altar; unfortunately I cannot scan her, or I would ;-))
"I am of the family of the universe, and with all of us together I do not fear being alone; I can reach out and touch a rock or a hand or dip my feet in water. Always there is some body close by, and when I speak I am answered by a plane's roar or the bird's whistling or the voices of others in conversation far apart from me. When I lie down to sleep, I am in the company of the dark and the stars.
"Breathe to me, sheep in the meadow. Sun and moon, my father and my father's brother, kiss me on the brow with your light. My sister, earth, holds me up to be kissed. Sun and moon, I smile at your light and spread my arms in affection and lay myself down at full length for the earth to know I love it too and am never to be separated from it. In no way shall death part us."
- David Ignatow
"Sensuous during life
do not deny me in death!
Wash me with the scent of apple blossom.
Anoint me with the essence of lilac.
Fill my veins with honeysuckle nectar.
Sprinkle me with the perfume of purple violets.
Envelop me in shroud saturated with fragrance of freshly mown meadow hay.
Rest me in moss velvet earth.
Cover me with soil exuding flavor of maple and oak leaves.
Command a white birch to stand guard!"
- Lois Wickenhauser
(both poems from Earth Prayers)