Full moon, and a weird Voodoo dream: pots de tete?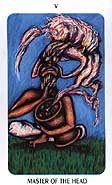 Yikes.com! Speaking of spirit guides, this one just left his calling card, and in no uncertain terms, and in the Voodoo Tarot to boot... *I hear my beloved knocking, and I arise to answer with myrrh dripping off my fingers* (Song of Songs)... After a quite pleasant phone conversation with B-E (although he no longer regards Voodoo among his classification of "pure religions"), I went to bed and to sleep, woke up at about 2 am, noted full moon streaming in through window, could not get back to sleep for a while, so I 'pottered' (interesting word, in the context!) about in AT a bit, before returning to bed and sleep, with the strange 'head' sensation this time of the little balls that maintain balance rolling about in my inner ear, although I lay still...
In my dream, I had a doll which I cherished as if it equated to a real child (maybe on some level, it represents my 'spiritual child' self since recent initiation?). Only, not so much the head, as the plastic front part of the face (persona or mask?) kept falling off, and this odd, moulded clear plastic form kept popping out, kind of like one head on top of another, only also with folded wings in between, kind of like a totem pole (a model of the self/Higher Self relationship?). I kept popping it back in, and replacing the face. Later in the dream I also had another doll, smaller and darker, only it seemed just a head, that spoke to me... It seemed quite embarrassing when this happened in public, or in the presence of someone else (another woman, proprietress of the toy shop, i.e. Ayizan as guardian goddess of the marketplace, domain of women, and maintainer of hounfor proprieties? Interesting that, true to form, she remained more or less faceless, in my dream... Having just commented on her as such in AT on the thread of the Empress).
Woke up with the image of Rada Hounsis (Page or Princess of Swords) before my eyes, feeling somewhat intellectually challenged by all this, and definitely recalling my own Page image of little Alice recently promoted from pawn to queen on the chessboard: only this hounsis lovingly tends all the pots-de-tete in the hounfor, i.e. jars, or sometimes dolls' heads, protectively containing the "Ti Bon Anges" (Temperance angels or spirits) of the sorcerers as talismans, i.e. her particular temple function seems something of a sacristan, in Catholic terms. Must re-research this aspect of Voodooism. I have my own small jar, well-hidden, already, connecting me to this Tarot, and I think of it as my 'pot-de-tete', but I believe they do a lot of work, and art, with dolls' heads in particular, to preserve the spirits of the loa, as in bottles, i.e. real Voodoo art (and not, as everyone thinks from Hollywood, dolls of your enemies for sticking pins in, although that may relate to the 'lefthand side' of Voodooism as in the creation of Zombis for exploitative slave labour! i.e. When you see washed-up dead fugu, puffer fish, on St Kilda beach, think that a Zombi - will-less Hanged One - 'walks' somewhere? ;-P)
I believe I already used a doll's head ('found art') for this purpose in creating my mermaid (La Sirene, 7 of Cups, although I erroneously called her Yemaya (9 of Pentacles) at the time... but then, confusions can happen when in the watery 7 of Cups domain! lol I trust La Siren and Yemaya will both forgive me my ignorance and inexperience, and have a good laugh at my expense! lol
At its silliest, and most literal level, the 'Pope' made an appearance in the last act of Sister Act, in Gawith's "rich tapestry" today, perhaps by way of confirmation? ;-))