10 of Cups: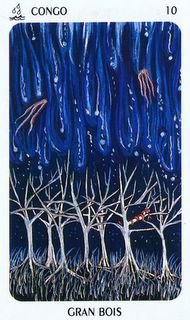 If you have found your holy grail when the 2 become 1,
"when 1 becomes 2, what will you do?"
(gospel of Thomas). You cannot step in the same river twice: PANTA RHEI,
"everything flows"
(Heraclites). By the willows and many waters of Babylon, we hung up our harps on the branches of the willow and refuse to sing another song of the Lord
"in terra aliena"
(Psalm 78, the captives' psalm). As long as we find ourselves in mortal exile here, our souls still thirst for freedom, thirst for water to become wine, until the Day of Days when it arrives at last, even as we continue to walk
"by still waters, in pastures green"
(Psalm 23), shepherded by the goddesses Nemi and Freyja. And so our souls taste of a Blakeian resurrection even here, as we feel ourselves freed from the bonds of Tirzah, our earthly mother:
"then, woman, what have I to do with thee?"
In my end seems my beginning; in my beginning (genesis) seems the seed of my end (apocalypse). The Voodoo Tarot emphasizes for some reason the trees of the forest (and their lord, Gran Bois):
"just like a tree planted by the waterside, we shall not be moved"
;-))