A Fortune cards story for Sebi, in the light of Death (today's cyber-Tarot!)
'T

he Road

' indicates

a whole new path

- a new direction the person being read for has just started to take, or is about to embark on.
When this card appears by '

The Rider

' (*the highwayman comes riding, riding, up to the old inn door*), obviously we have a very plausible "dream-scenario", in which you ride along a "long and winding road": the cards invite you to put yourself into the picture as a guided visualization, perhaps even as the Grim Reaper yourself, in the death's-head mask, traditional armour and all...
Only your own imagination limits you! Remember that

"death rides a pale horse"

(Book of Revelation). Next to '

The Scythe

', the card is actually advising a break from the past -

the courage to take a new direction

, or yourself as Death, the 'Grim Reaper', cutting off his own old life, with its ties and associations? Reminds me of my 10 of Swords at this point

("if thy hand offend thee, cut it off!").

This really seems the traditional Death cards (see cyber-Tarot) come to life! If you like, you can even imitate Terry Pratchett's Death at this point, and SPEAK (OR RATHER YELL) IN CAPS!!! Lay '

The Flowers

' on the grave of the old life, as a way of honouring the past. Death also has a large white flower on his banner, you will notice.

*We travel in a strange

Ship

(of Fools), carrying the strangest cargo you have ever seen* (with apologies to Mike Scott)... The Ship of Fools could also equal the Ship of the Dead, i.e. when you cross over into the Otherworld, alive or dead, you meet all sorts of strange and interesting folk who have gone before... The

Whip
always makes me think of Smithers in the Simpsons, cracking his whip as a very Village-people cowboy in black leather chaps! (What did Gary discuss yesterday? lol) '

The Bird

' appears,in a classic Hitchcock movie, with all its friends and relations... but the birds do sound lovely these spring mornings, do they not? (Not that you seem usually up to hear them...) *Morning songbird, sing away/lend your tune to another day* (Cat Stevens). '

The Mouse

' advises you, through someone with Virgo rising (!) to pay close attention to details, and carefully read all the fine print, because "the devil seems in the details", and many have not paid attention to these, at their peril! lol I.e. remember my nitpicking about the Fortune cards not really equating to a "Tarot", but rather a "non-Tarot divination deck", along with the Mayan Oracle, Animal Medicine cards, Oracle of the Dreamtime etc. and my constant nagging you to remember that, Scorpio as this corresponds to (very nicely done in the Animal Tarot, btw, with a little cat staring longingly into a large goldfish bowl full of fish, and obviously thinking, *i'm going to eat you, little fishy*, like Cat on Red Dwarf), you still amount to a King of Swords (sidereal Libran), not Cups... in all his splendour, i.e. warts and all! lol Or as Tony typoed to my amusement on Messenger, "See you in the catroom"... I put on the radio and ABC FM plays the "Sylvester chasing Tweetybird" piece! This little mouse disappears fast back in into her hole! lol
Wherever it falls, 'The Road' always indicates something new, and points to change. 'The Road' card can act as one of many cards in the traditional tarot deck, such as the 'Death' card, which has to do with change or a psy
chological
rebirth

,

'The Tower', which is all about the breaking down of the old to make way for the new,

(two of my very best favorite cards) or one of the many cards of the major and minor arcana indicating positive change. What do you get when the Fool (my soul-card) meets Death? *I like to go a-wandering, my knapsack on my back...falderi faldera!* (New power-song for the Fool!) If you have any questions, please feel free to leave a comment, and I'll do my best to answer them for you as soon as possible.

Actually I might hit the road myself with John today, for a little Sunday drive in his 'new' car, so hopefully that will not amount to literally 'taking my life in my hands'! lol

Funnily enough, the Death card just came up as my personal Tarot card for the day as well, and I read in Frances Parkinson Keyes' The Chess Players: "'We may have had some reverses'(...) 'We may have had some very serious reverses.' (...)When the Paris press came out with the headline, LA MORT

de l'

ALABAMA, I wished I had thought of writing about it that way myself, instead of just an insignificant piece based on a chat I had with one of the survivors, who'd been two years afloat and who was now left stranded in a strange land, without a

sou

to send to his wife and children in Mobile. Of course, I could help him out, as far as that was concerned, and I did; but what the hell? His ship is dead, even if he isn't and she's his beloved dead -

our

beloved dead, too. It's as hard to bear as if she'd been a human being. Everyone in the South is going to feel that way about the

Alabama;

but no one would feel that way about those ships at Nantes and Bordeaux if they went down the way she did.'
"'They'd have kept a lot of other human beings from meeting their death.'
"'Granted. But so does a levee. But you don't think of it as having or giving life.'" (pp. 479-80).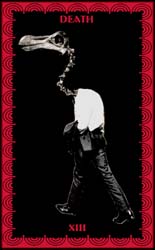 Curious Tarot
Death
The Curious Tarot, the rarest and most unusual of modern decks, forms a surreal collage of American consumer imagery, eerily capturing the archetypes of the atomic age. It seems the deck of those who seek to harness the ancient tribal energy that courses through the modern urban world. There are only 100 Curious Tarot decks in existence - if you want one, buy it now!

Oh, and btw, Sebi and Aidan, the "print screen" and "paint" did not work on this computer either, any more than the Magic CD! I had to do my usual facade.com "copy and paste" for this one, although I did try to do a screenshot *grr* ;-P