Durga, Awesome Mother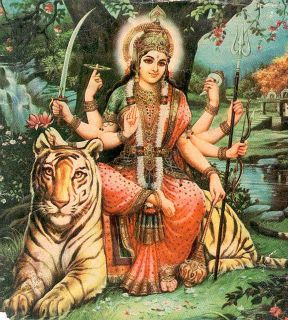 Durga, Awesome Mother: meditate on her this new moon solar eclipse

Durga, often called the Inaccessible, comprises the trinity of goddesses with Uma and Parvati. A beautiful yellow woman with ten arms, she carries a trident, sword, drum and bowl of blood. She rides a lion (or a tiger, as in this lunar month) and uses the gods' weapons to defend them from demons. Her sacred festivals take place in Bengali in the autumn. The opening phrase of the national anthem of India praises her. She represents a kind of fierce, protective mother defending her young.
"Behold, the Divine Mother comes to defend her children.Her great, just wrath opposes all who would oppress me. She lifts trident and sword in my defence.Ruin comes to all those who would persecute all peoplewho call upon the Goddess."
Burn incense, relax and visualize yourself standing in a Hindu temple. Climb the seven steps leading up to the open door and go inside. There you find a huge statue of Durga. As you walk across the floor, she suddenly comes to life, steps down to meet you, dances across the floor and sweeps you into her arms. She kisses your forehead, and sings her magick songs of defence and protection. Her words become visible, sailing out from the temple. You do not see where they are going, nor can you direct them. She lifts you into her lap as she sits on the altar once more. She speaks to you about your problems, giving divine wisdom and guidance. Listen...
When she finishes, she sets you on the floor and dances her magick dance. When you feel once more firm in your body, chant:
"Comfort me, Mother.Reveal to me your plan behind the cycle of my life. Lift my grief and despair. Help me to better understand your great powers. Give me faith in your goodness and greatness."
Thank her for her help and wisdom.
- from Moon Magick, D.J.Conway.